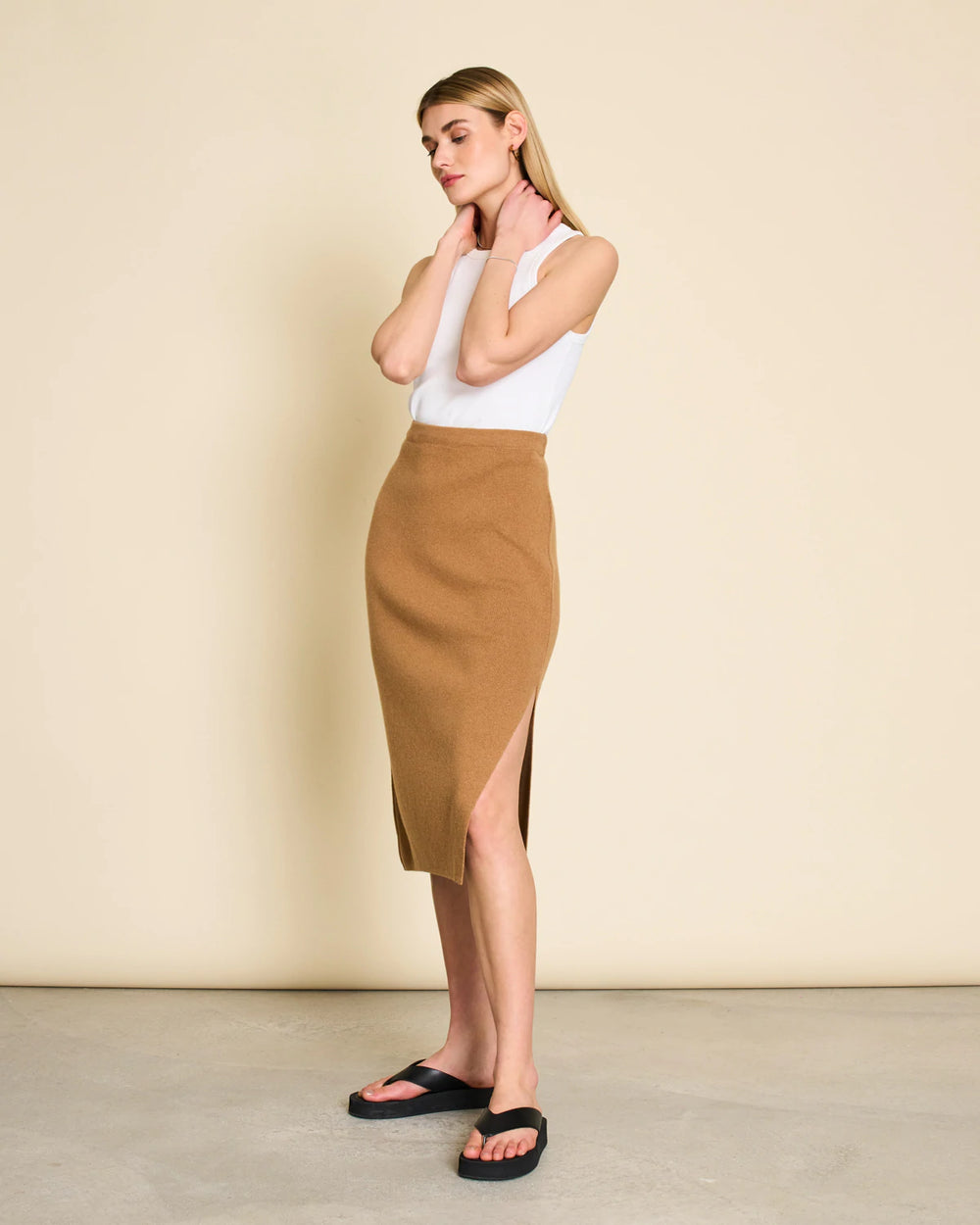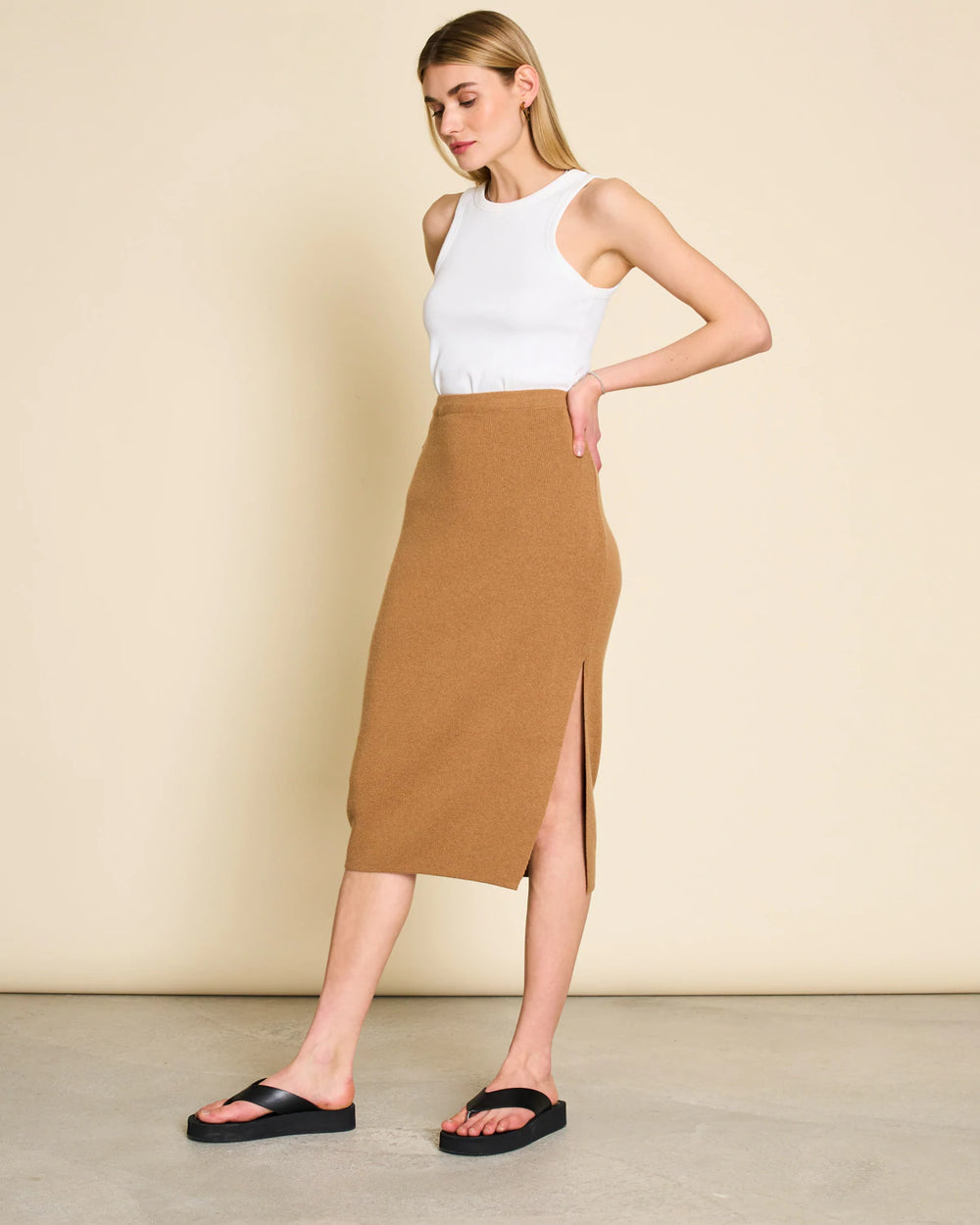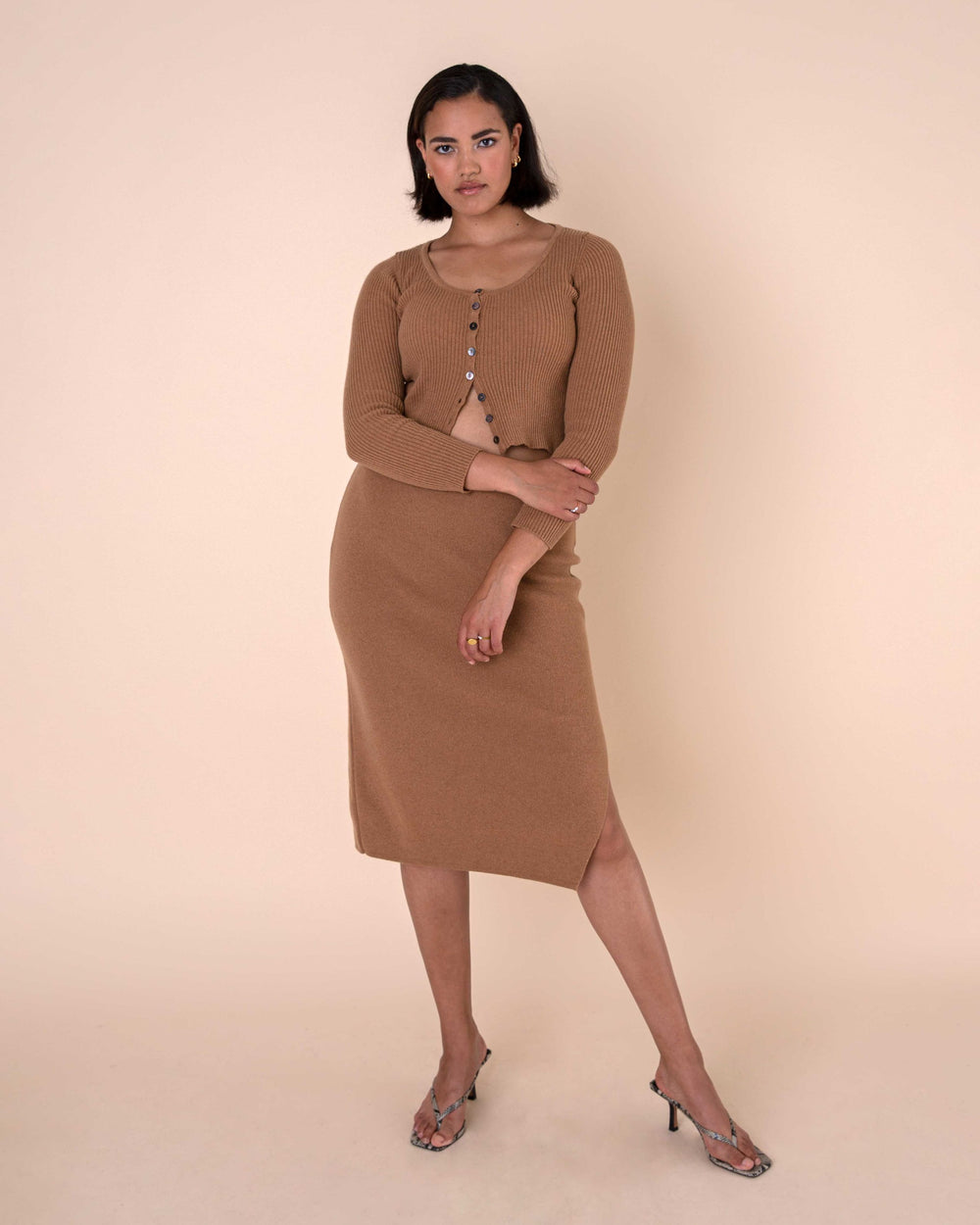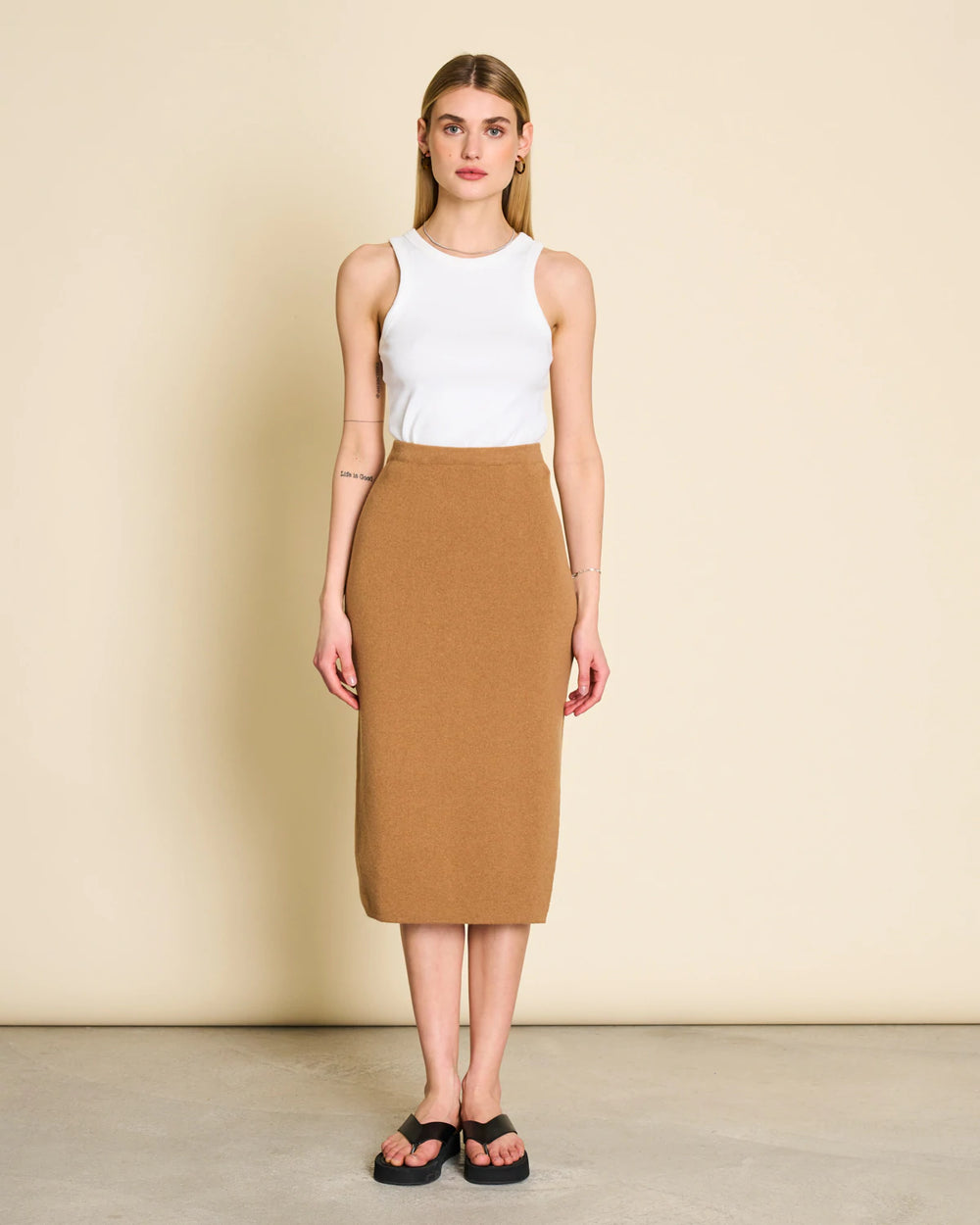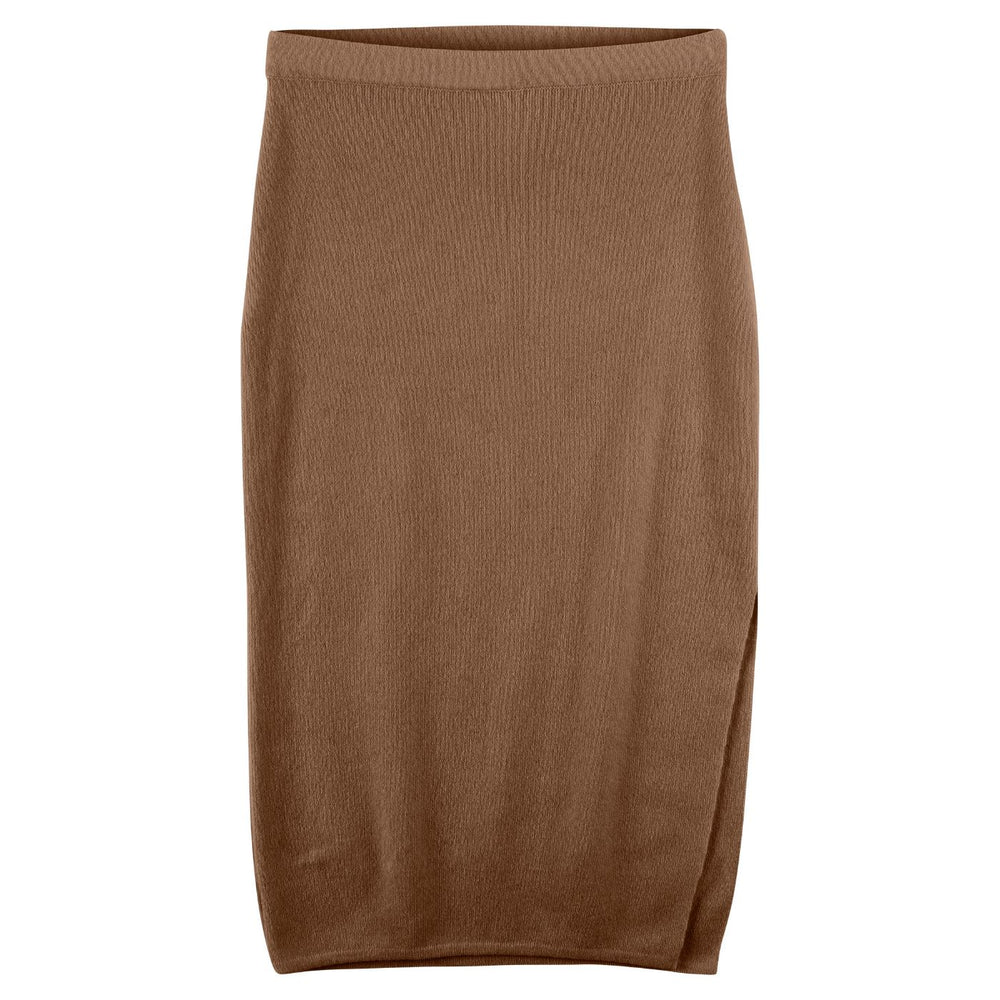 Jammu Recycled Cashmere Skirt Wood
The midi skirt JAMMU, made of supersoft recycled cashmere, is going to be your elegant and cosy companion. Through the wide comfy waistband, it has a high waisted fit and with the side seam slit you can show off some leg.
 FYI: The district JAMMU was and still is an important intersection for trading near India. The area was a central point for the so called "silk street". In that sense, JAMMU could stand for discovery and experience. 
What makes Jammu Skirt different?
SUSTAINABLY MADE FROM
75% recycled cashmere
25% RWS (Responsible Wool Standard) certified Merino wool
RWS ensures compliance with specific animal wlefare criteria, including fair animal hold in barn and enough pasture, no mulesing, strict rules in castration andanesthesia and many more.
WASHING & CARE INSTRUCTIONS
TAWI is made of recycled cashmere:
Please do not wash cashmere that often, cashmere is a high-end fabric and needs to be treated like a queen
The cashmere fabric is most likely happy for just hanging around. After a day of wearing the piece, please just hang it outside or over a chair to air out
Handwash (your machine can manage handwash, too!) with cold or half heated water and wool detergent
After handwash, please wring out the rest of water carefully and lay the piece on your clothes horse or on a towl on the floor. Cashmere does not like to hang when it is still wet.
ETHICALLY PRODUCED IN
Made with love in Braga, Portugal, where the team from Jan N June team visits frequently to ensure the factory meets the highest standards of safety and ethics.
ABOUT THE LABEL
Jan 'N June is a German eco-fashion label that is a strong believer that style and sustainability can go hand in hand without a hefty price tag. Fashion, but make it slow.
It comes as no surprise that when there wasn't an answer to their question, "Why is there no stylish, sustainable and affordable fashion label?", the two female founders took it upon themselves to make it happen.
Today, they are a GOTS-certified label that works only with certified materials and manufactures all their garments in Poland and Portugal, in family-owned and/or certified factories.
Transparency is also at the core of their business. Every item has a specific QR code that will reveal the entire supply chain of the item, from the designing phase to yarn production and garment manufacturing.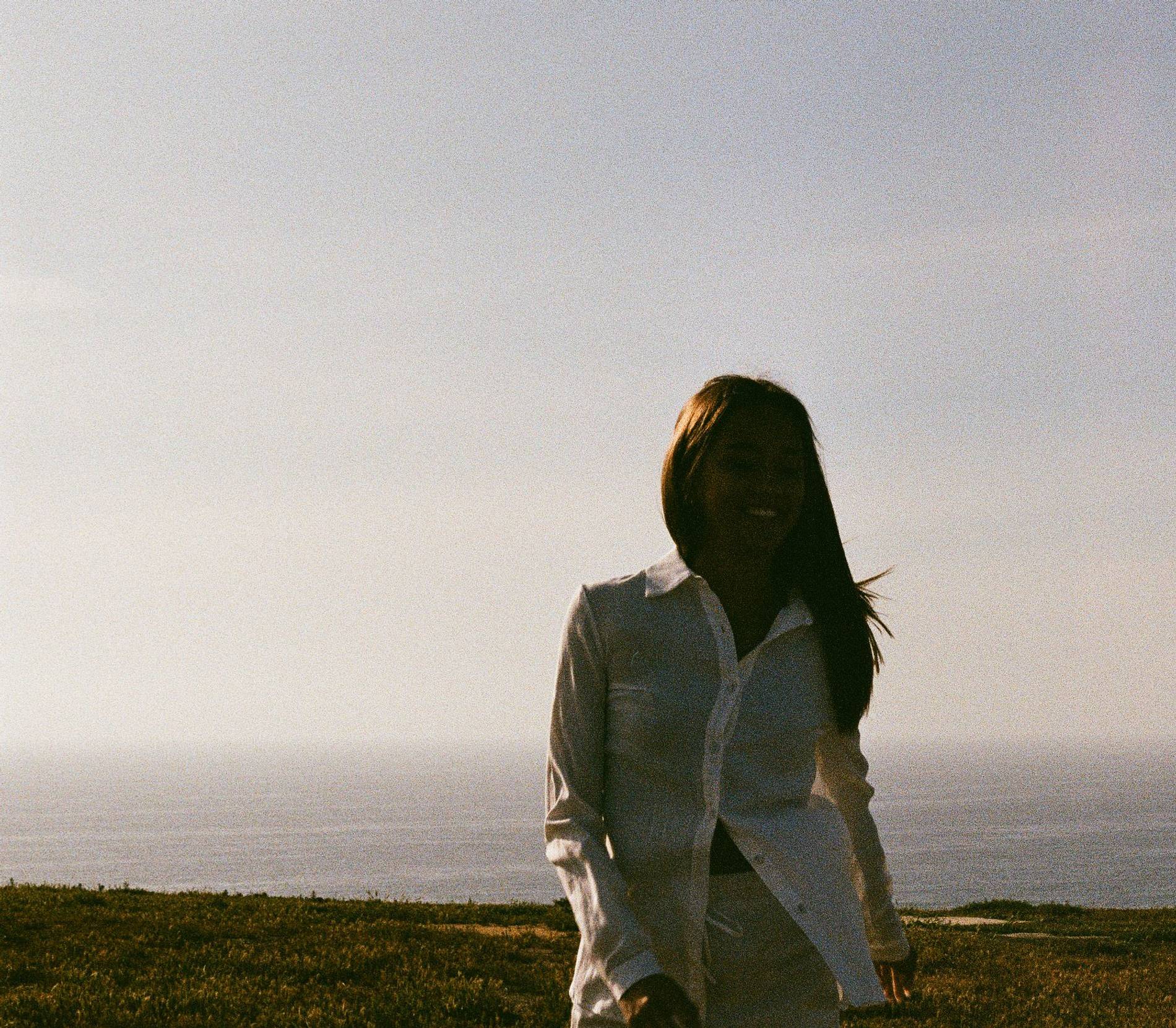 One more thing
Sustainability & Ethical Aspects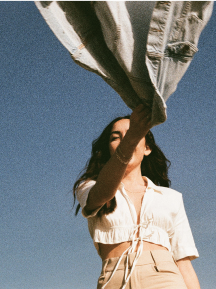 FAIR LABOUR
SUPPLY CHAIN TRANSPARENCY
CIRCULARITY
SYNTHETIC-FREE
ZERO WASTE